What Our Customers Are Saying?
Our Happy Customers share their Experiences
Audrey
Terenure, Dublin
"Greenacres Landscapes designed and constructed our garden eleven years ago .. … and Andrew and his team continue to maintain the garden on a six monthly basis which ensures that it looks good throughout the year " …. " literally tons of stone, soil and equipment have been carried through the house over the years with no damage whatsoever."
Maeve & John, Lucan
Co. Dublin
"We had heard about Greenacres Landscapes through friends of ours and they came Highly recommended … We had an idea as to what we wanted and they really delivered our vision 100% perfectly…even better than what we expected. ! …"
Lyndsey Knox
Director & Company Secretary - ELMC Ltd.
"Our development was in a major state of disrepair. …. In a matter of a couple of weeks Greenacres turned it back into a well manicured and well kept landscaped area. Andrew and his team are extremely professional, timely and a pleasure to deal with."
David Roberton
Director, Qualitas Property Partners
"We currently use Greenacres Landscapes on a number of the developments under our management… We have found their Quality, Attention to detail and Customer service to be an excellent standard. We have no hesitation in recommending their services to any prospective clients."
Mary Dobbs Cattery
Dublin 16
" we presented Andy and his team with a huge challenge to design and create Our Cattery garden completely from scratch" …. Now , " As our clients turn the corner into our garden it always takes their breath away " …. "Without hesitation we highly recommend Andy and his team."
Jonathan Behan
Director, Property Management
" Our requirements cover the general grounds maintenance of residential & commercial developments throughout the Leinster region. ….. Since 2010 , Greenacres have acted in a thoroughly professional manner and have always adhered strictly to the guidelines & schedules set out…take a pro-active approach …. Workmanship has always been of a high quality, carried out in a timely and cost efficient fashion .."
P.Mooney
Commercial, Retail & Residential
" Andrew Keane of Greenacres landscaping has been a service provider to me for over 20 years of Landscaping and related services . maintained and planted in my family home …& a number of industrial and retail premises .. In all this time I have found Andrew and his team to be good people to work with , reliable and completing agreed works in time and on budget . "
Vincent
U.V. property - Ltd.
"Our experience of working with Greenacres has been excellent. They are very professional and bring their landscaping knowledge to all their projects big or small…… They carry out landscaping maintenance for us on a weekly basis and this is done without fail, very efficiently and to a very high level of quality. "
Albert P.
Chairman, Board of Directors . Killiney
" Very quickly, Our residential Estate saw the benefits from the work of Andrew and the men he employed : a fresh and energised look, displaying the happy results of steadfast care and attention. ……. Andrew's high standard of work and his commitment is consistently maintained."
Frank Dowling
I contacted Greenacres Landscapes
"Andy and his team are fantastic. They have always been on time, efficient, and knowledgeable. Schamek especially is very pleasant, easy to deal with and obliging. I would never use any other garden maintenance company and I highly recommend them."
Roslyn Keogh
I contacted Greenacres Landscapes
"I contacted Greenacres Landscapes: The Gift Grower recently as I had some work that needed to be done in my garden. I got a very quick reply and since then the customer service has been highly professional. The work the team did in the garden was exactly as requested, with little fuss and the garden was left very tidy afterwards. I know I will be a repeat client, and would highly recommend them to anyone (and that's coming from someone who never leaves reviews)."
Rossa – Killiney
I contacted Greenacres Landscapes
" Greenacres, Andy, Rafal, Peter and the team did an amazing job on the re-design of my small front garden, from a small forest to a beautiful patio with porcelain tiles and surrounding wall. For a small garden, the job was a big one, including having to repair/replace underground drains. I am absolutely delighted with the result and am looking forward to enjoying sunny afternoons in my new space."
Kay Day
I contacted Greenacres Landscapes
" I have used this company for a few yrs now.and I must say I find them very efficient. The two lads do a wonderful job.very friendly and nothing is a problem 🙂 for them.My garden looks great as they did their annual tree 🌳 cutting and garden tidy up. I would recommend them highly… "
Sandra Wynne
I contacted Greenacres Landscapes
" Couldn't recommend Andy and his team more. The lads have been going to my dad for years now, originally to keep the many Cypress trees trimmed surrounding his large garden, and this summer maintaining the garden every week, as dad can no longer do it. Martin came to me also last week to do a general tidy up. He was so professional, punctual, and did a brilliant job. Thanks again Andy "
Mary, Rathmines
I contacted Greenacres Landscapes
" Thank you to Andy and his team at Greenacres Landscapes for the great work they did today. Our gardens front and back needed alot of tidying, maintenance and grass cutting . They got the work done efficiently. Andy and his team are pleasant to deal with. I highly recommend them. "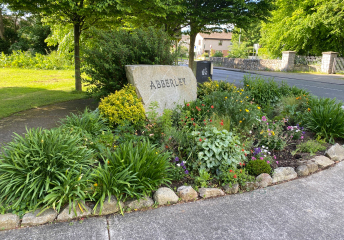 Abberley Management
I contacted Greenacres Landscapes
" The Greenacres team have transformed our estate! They have weeded, pruned, cut grass, removed shrubs, extracted brambles etc. and removed all waste. Our estate now looks cared-for and well-maintained. It is clear that the team take great pride in their work. They are a pleasure to deal with and we would have no hesitation in recommending them to other management companies. "
Michelle Sullivan
I contacted Greenacres Landscapes
" We recently had work completed on our back garden, grass removed and replaced with stone and paving , plant bed walls built and repairs to our existing deck and fencing , overall a bit of a transformation ! We are delighted with the result . Andy , Brian and Stephen were a pleasure to deal with , nothing was too much trouble . We would highly recommend this company . Adrian and Michelle sullivan "
Katie Losty
I contacted Greenacres Landscapes
" Greenacres Landscapes have maintained the large green areas and the variety of smaller gardens of our 60 resident estate for the past 10 years or more. Andy and his team are really efficient and excellent at what they do. All year round these gardens bring great value to us all. I would highly recommend the services of Greenacres Landscapes. "
Annmarie Fleming
I contacted Greenacres Landscapes
" Andy and his team did an amazing job on my Mums garden it had got so overgrown, there was a massive amount of work to be done and we couldn't believe how much they got through in one day! So professional, so tidy, so friendly, it's back to being her beautiful garden again…. looking good. Thanks Andy and team your all seriously hard workers "
Paul Keogh
I contacted Greenacres Landscapes
" Thanks Andy and Schmek for the work on front and back gardens which needed a lot of maintenance, hedge trimming etc. The guys got all this done in a single day and left the place spotless afterwards. Very professional service and I would have no hesitation recommending their work. Paul Keogh. "
Nora McGarry
I contacted Greenacres Landscapes
" Andy Shane and the team ..what can I say they were amazing .. so easy to communicate with .they had a very dificult task removing erlande trees from three neighbour gardens all affected by these overgrown gardens.their quote was very reasonable..but their quality of work was amazing..sooo happy with the result. "
Anley Court Mgmt Company Ltd
I contacted Greenacres Landscapes
" We have used this company for over a year now and are extremely happy with the service we recieve from them .we would highly recommend them. "